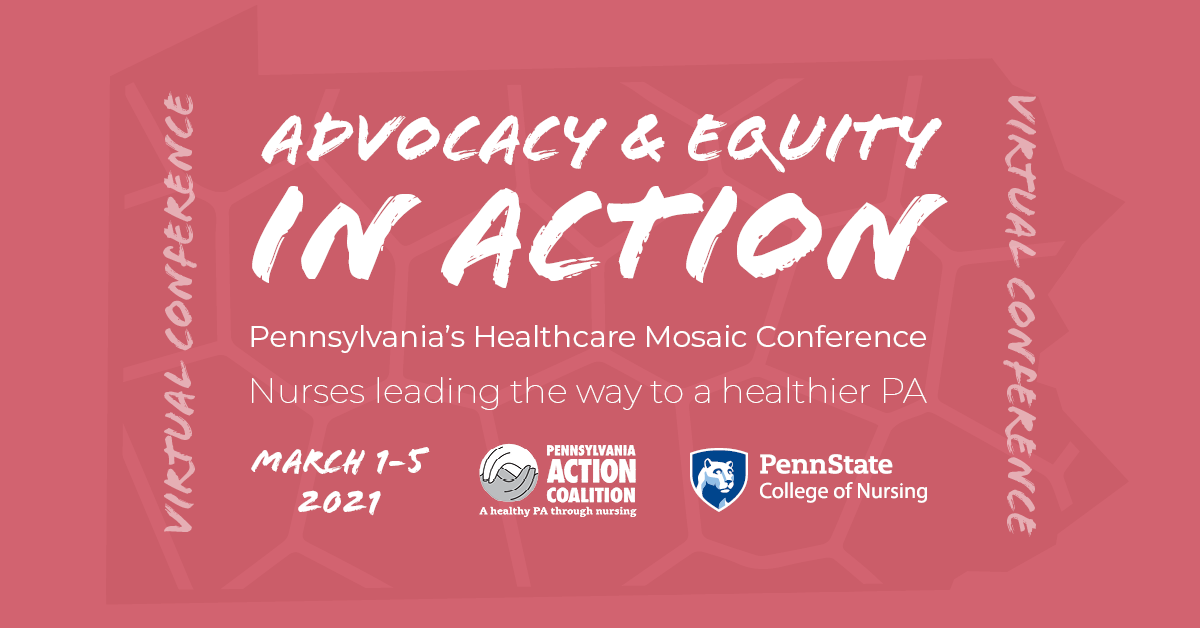 Advocacy & Equity in Action
March 1-5, 2021
Online Conference (through Zoom)
Join nurse leaders March 1-5, 2021 for Pennsylvania's Healthcare Mosaic Conference: Advocacy & Equity in Action, hosted by the Nurse Diversity Council of the Pennsylvania Action Coalition in partnership with Penn State College of Nursing. The entire conference will be virtual and conducted through Zoom. Presentations will be scheduled throughout each day.
This conference will virtually bring together healthcare experts to:
Identify culturally competent care practices among academic, clinical, community, and other stakeholders
Discuss impact of health policy and advocacy on health, healthcare delivery and outcomes
Examine current policy and evidence-based practices in addressing social determinants of health, health disparities, and health equity
Analyze sources of explicit and implicit bias and how they affect patient care, community health, and healthcare policy
Additionally, we hope to provide a forum to share best practices and lessons learned in nursing leadership from the COVID-19 pandemic, and providing the best care for marginalized populations during a public health crisis.
We extend our sincere gratitude to all of the nurses and healthcare professionals working tirelessly to keep us safe and healthy, and look forward to honoring their dedication and contributions at this conference.