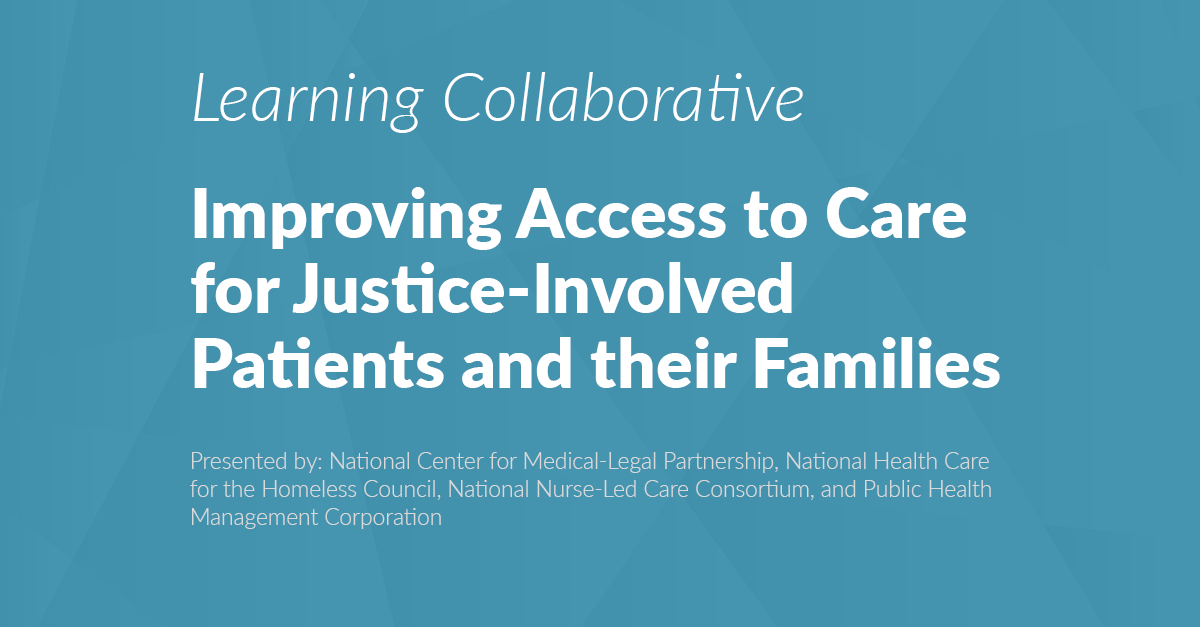 Formerly incarcerated individuals – and their families – face barriers to equitable housing, career opportunities, and primary care, and may also experience higher disease burdens than non-justice involved individuals. Yet someone may be "justice involved" without having ever been incarcerated. In fact, anyone who has had an issue - past or current - with the criminal justice or related system (such as law enforcement) may be part of the justice-involved population. These individuals often experience health disparities at disproportionate rates when compared to those without justice involvement. Community-based primary care providers - like health centers - can play a critical role for their patients involved in the justice system by offering culturally competent, compassionate, and comprehensive care that addresses patients' unique needs.
The National Center for Medical-Legal Partnership, the National Health Care for the Homeless Council, the National Nurse-Led Care Consortium, and Public Health Management Corporation are convened a learning collaboration to explore the intersection of health and justice involvement, including incarceration. The learning collaborative consisted of four modules from February through April of 2020, during which speakers provided an overview of the criminal justice system, strategies to reduce barriers to care (including stigma), the link between housing and criminal justice involvement, and opportunities to pursue community partnerships.
Part 1: It's Complicated: Understanding the Complex Landscape of Justice-Involvement for Health Center Patients and Their Care Teams
Advance your understanding of the legal landscape with a focus on understanding the civil and criminal justice systems at the local and national level. Build effective strategies and partnerships locally to improve housing access for justice-involved patients. 
Part 2: Now What? Looking at the Health Center Role in Addressing the Needs of Justice-Involved Patients 
Justice involvement, housing instability, and difficulty managing complex health needs heavily overlap in the lives of many health center patients. Explore the health needs of justice involved individuals and learn how health centers have created innovative partnerships served individuals this intersection.
Part 3: Faculty Coaching and Peer Learning 
Part 4: Bringing it Home: Promising Practices and Lessons for Health Center Providers and Staff