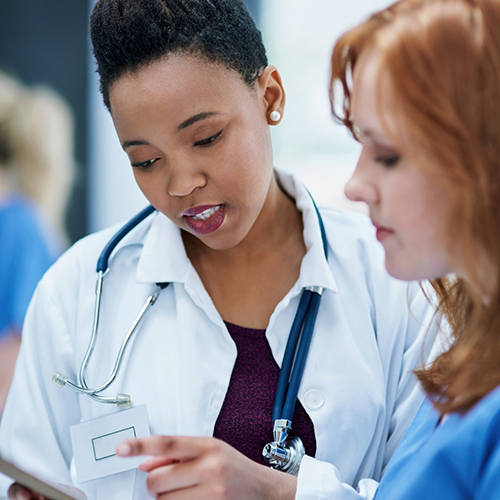 Nurse-led care exists at the intersection of multidisciplinary healthcare, where nurses have a transformative role as holistic caregivers, advocates, and leaders. Nurses have unique skills and insight to treat the whole person, serving as a critical connection between compassionate and evidence-based healthcare.
Nurse leaders can be found in the community, the exam room, government offices, educational institutions, and more.
Nurse-Led Care Facts
 States with Full Practice Authority 
NPs are certified in primary care** 
How NNCC Supports Nurse-Led Care
Resources: We offer a wide variety of educational opportunities including webinars, reports, and in-person training. This training helps nurse leaders build their practice, make it sustainable, and improve the quality of care.
Policy: We advocate for nurse-led care, including full practice authority for advanced practice nurses and nursing workforce development funding. We fight in Washington DC and in state legislatures on your behalf.
Membership: Members have access to more resources and discounted educational opportunities. Members also receive discounted rates to our Annual Conference, and gain access to NNCC's nurse-led care network.
Public Health Programs: Programs like the Nurse-Family Partnership and Mabel Morris Family Home Visit Program are public health nursing in action. We build and manage public health programs in Philadelphia (our headquarters) to serve as national models for public health and nursing.
*2020 Gallup Poll
**2020 AANP Nurse Practitioner Fact Sheet
LATEST NEWS
STAY CONNECTED TO NURSE-LED CARE