*Note: This post is being continuously updated to reflect changes in national policy around the scope of practice. Last updated: May 21, 2019
The National Nurse-Led Care Consortium is tracking legislation across the country aimed at allowing nurse practitioners to practice independently of physician supervision, to the full scope of their education and training. Nationally, 22 states and DC already have full practice authority in place. Because this is a state issue, each bill requires a different level of rigor for transition to independent practice. NNCC will be monitoring these bills and any others introduced throughout each state's legislative session.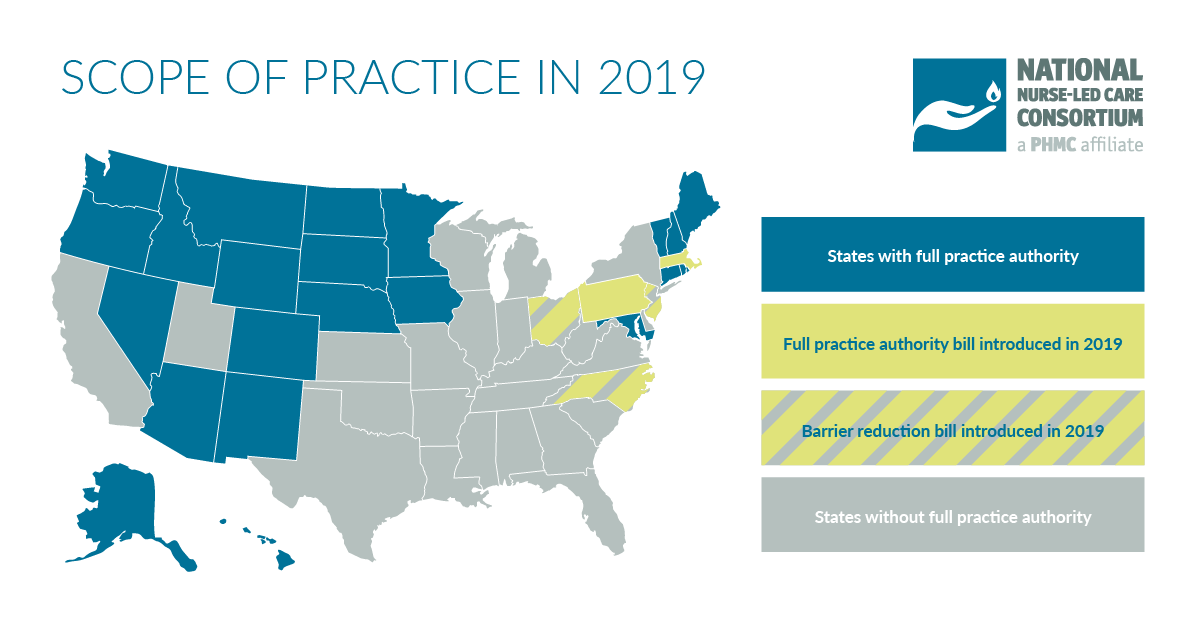 Full Practice Authority Bills
Pennsylvania
Senate Bill 25 passed the Senate with a vote of 44-6 on June 12. The bill, which passed the Senate in the previous legislative session but died in the House, would require 3,600 hours of collaborative practice over three years. A companion bill, House Bill 100, was introduced in the House on April 9. Both bills now sit in the House Professional Licensure committee. Pennsylvania's legislative session adjourns December 31, 2019.
Massachusetts
House Bill 1867 and Senate Bill 1330 were referred to the Joint Committee on Public Health on January 22, 2019. The bills would remove all prescribing restrictions for nurse practitioners, making Massachusetts a full practice authority state. Massachusetts' legislative session adjourns December 31, 2019.
Barrier Reduction Bills
California
Assembly Bill 890 was tabled in the Appropriations Committee without a hearing. Advocates for the legislation will work to reintroduce it next year.
Florida
House Bill 821 passed the House with a vote of 75 to 37 on April 17, but failed to receive a vote in the Senate before session adjourned on May 3, 2019.
Indiana
Senate Bill 394 took on significant amendments and failed to receive a vote on the House floor before session adjourned on April 29, 2019.
New Jersey
Senate Bill 1961 unanimously passed the Senate Committee on Health, Human Services, and Senior Citizens on June 3, over 15 months after its initial introduction. The bill would remove the requirement for advanced practice nurses to maintain a collaborative agreement with a physician in order to have prescriptive authority. APNs would be able to apply for independent prescriptive authority and full signatory authority after 24 months and 2400 hours of collaborative practice with a physician. New Jersey's legislative session will adjourn on January 13, 2020.
North Carolina
House Bill 185 and Senate Bill 143 both sit in committee in their respective chambers. While the bills could significantly expand NP practice in North Carolina, more clarification is needed to describe the relationship between nurse practitioners and physicians after passage. North Carolina's legislative session ends July 3, 2020.
Ohio
House Bill 177 passed the House Committee on Rules and Reference, had its second reading in the House, and was referred to the House Committee on Health on April 2. The bill would remove the requirements for APRNs to maintain a collaborative agreement with a physician in order to practice. Other restrictions on practice would remain in place. Ohio's legislative session will adjourn on December 31, 2019. 
Texas
House Bill 1792 was left pending in its subcommittee, and will not receive a hearing before Texas's legislative session ends May 27, 2019.
Click here to learn more about our policy work 
LATEST NEWS
STAY CONNECTED TO NURSE-LED CARE