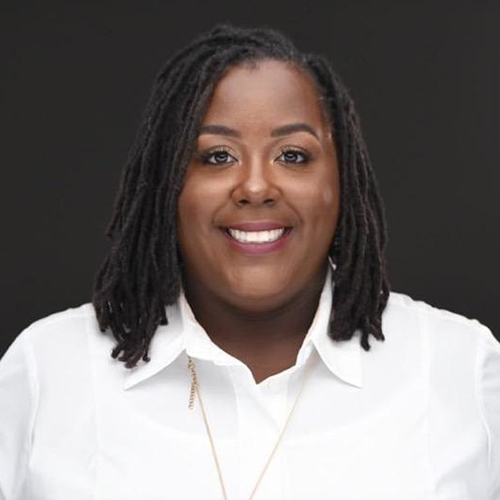 The National Nurse-Led Care Consortium (NNCC) recently created four new Senior Director roles to advance our mission to strengthen communities through nurse-led care. I sat down with Shukriyyah Mitchell-Hinton, BSN, RN, NNCC's new Senior Director of Outreach and Advocacy, to discuss her role and the future of nurse-led care.
Hi Shukriyyah. Thanks for talking to us today. Tell us about yourself! What led you to this position?
I have been a public health nurse for over 11 years. I graduated from the University of Pennsylvania School of Nursing and started my first nursing job as a Nurse Home Visitor for the Philadelphia Nurse-Family Partnership at NNCC. For six years, I worked directly with families in Philadelphia who were expecting their first child. The exposure to incredibly resilient families with challenging circumstances is something that will always stick with me. For the past five years, I have been supporting the practice of other Nurse Home Visitors as a Nursing Supervisor. Just a few short months ago, I accepted the position of Senior Director of Outreach and Advocacy. The position really feels like a good fit and an organic progression. It feels really rewarding to translate what I experienced in the field into systems level change.
What do you envision as the purpose of your new role as Senior Director of Outreach and Advocacy?
My purpose is to support advocacy work that translates what I saw in the field into real life policy changes. Underrepresented families experience challenges not because they are unlucky, but because the structures in place have left them vulnerable. I see my mission as addressing the structural determinants of health through advocacy and policy work with some incredibly talented folks. I have the pleasure of working with people who have been doing the work already.  Simply put, I want to work beside them and envision new ways to approach change together.
How does your background as a nurse influence the way you approach advocacy?
Being a public health nurse is the only nursing that I truly know. Working in the public health sphere has shown me that all people want are healthy and thriving families. To me, nursing is not about being the smartest person in the room, but about asking the right questions. As a nurse, I see myself as an investigator. I approach advocacy with the same mindset. My question has always been, "How do we support this family (and all families) to be their best? What are the barriers that are keeping this family from thriving?"
Has the importance of outreach and advocacy changed since onset of the COVID-19 pandemic? How?
Yes, it has. The pandemic has magnified the challenges of people already underrepresented. COVID has highlighted issues with access to equitable healthcare, income supports, safe housing, quality education, and more. Vulnerable families were not positioned to immediately pivot once the pandemic arrived. The pandemic has emphasized the need for structural changes to be made in the way we treat our most vulnerable. Our advocacy needs to be about freeing resources and changing policies so that everyone has the access that they need to thrive.
What does nurse-led care mean to you?
Nurse-led care means putting nurses at the helm working with multidisciplinary teams. Nurses are highly trusted professionals that view healthcare in a holistic manner. Nurse-led care is not limited to treating patients in the hospital and making decisions there, but also in the board room and where policies are made. Nurse-led care means elevating nurses in all the places that decisions are made and trusting them with the authority to lead.
Shukriyyah Mitchell-Hinton, BSN, RN is the Senior Director of Outreach and Advocacy at the National Nurse-Led Care Consortium.
LATEST BLOG POSTS
STAY CONNECTED TO NURSE-LED CARE