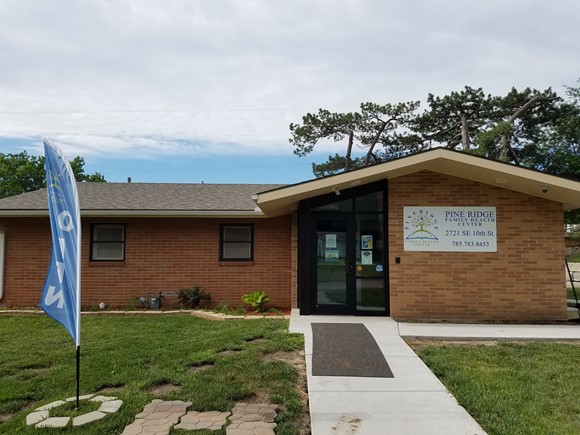 Contributors: Bianca Chun, Justin Gero, Emily Kane, Kevin Leacock
In Topeka, Kansas, residents of public housing have access to nurse-led care at the Pine Ridge Family Health Center. The clinic is the result of successful community partnership and the local housing authority not only listening to the needs of its residents, but taking action to address some of the biggest issues they faced. We recently spoke with Trey George, President and CEO of the Topeka Housing Authority (THA), and Mari Tucker, Partnership Liaison at Washburn University, about how a housing authority came to manage a health center. The health center is located in THA's Pine Ridge Manor, and is run by the housing authority and its staff. Mari and Trey told us what it means to the public housing residents in their city and its impact on the community.
Thank you both for speaking with us today and agreeing to talk about THA and the Pine Ridge Family Health Center. Before we start, can you give us a brief background on you both and how you got involved with these programs?
Mari: I started at Washburn University five years ago as the Director of the Office of Sponsored Projects, so I was basically in charge of managing all the grants for the university has. Before coming to Washburn, my late husband and I owned a dental practice in western Kansas . The dental experience was a great insight into healthcare in general, especially in rural underserved areas. That background was really helpful. My position now is in the Washburn school of nursing.
Trey: Currently, I'm the President and CEO for THA, and have been with the housing authority for now about eight and a half years. Prior to that, as I jokingly say, I am a recovering banker - I worked in the banking industry for 16 years. And although I enjoyed that, this is definitely more of a calling for me.
Thank you both for sharing! It's interesting that you both come from different backgrounds. Did the partnership between THA and Washburn begin when you both started in your current positions?
Trey: The Pine Ridge Partnership was actually a creation that preceded us. Resident families expressed concern that that their kids were not arriving to kindergarten ready  - or in line with the rest of the students. So, in 2010 the housing authority donated the use of the community center to Parents as Teachers to help children prepare for kindgarten. They were only open a couple hours a day for two to three days per week during that first year, and they were just packed the entire time that they were there. Our families really needed and appreciated the education that was being provided there. So we asked, what more can we do? That's when THA created "Pine Ridge Prep," which is our early learning center preschool. Interestingly, we learned that although the preschool was successful and families loved the resources, there was still more work to be done to prepare kids for their education. If home was a broken place and they went home after a really great day at school, they were quickly going to unlearn all the amazing things they were being taught at the preschool. So we decided to try and address some of the other factors involved in family success.
That's fascinating. So the health center is the result of THA progressively addressing the social determinants of health facing its residents, and it started with education and preschool.
Trey: Exactly.
Mari: And I would just say that the key to the success and continuation of Pine Ridge Prep and the health center is THA's willingness to set aside what could be rental property and use it for another purpose. Creating the Pine Ridge Prep, having the space for parents and grandparents, as Trey said, it's multi-generational, to try and break that cycle of poverty.
Why a health center, specifically? There must have been several projects THA could have pursued.
Mari: The Wellness Center was an outcropping of United Way community tours. Pine Ridge Prep was a stop on that United Way tour, and it just so happened that some faculty from the Washburn School of Nursing were on that tour and thought, wouldn't it be great if we could also offer some type of wellness checks (blood pressure, diabetes). Those kind of simple, non-invasive services could be offered onsite to improve the health of the community. It all grew from there!
Have Pine Ridge residents faced challenges in accessing care in the past? If so, what are some of those issues?
Mari: Transportation is a huge issue for all of the residents of public housing. Many residents don't have dependable cars. For someone living in Pine Ridge, it can be four or five bus stops and transfers to get to a medical provider. The Pine Ridge Family Health Center is the only known primary and urgent care clinic that's owned and operated by a housing authority. So, it's very easy access for the residents of Pine Ridge, it's right there. But, the Housing Authority also offers transportation to individuals living in Section 8 housing if they need help getting to the health center.
Trey: We have one of our residents, amazing young lady and mother of five, she's actually on our board now but she lives in Pine Ridge and I know it opened my eyes to her struggles with transportation. We knew transportation was a problem, but she would explain the process of getting all the kids up, getting everybody ready, getting everybody to the bus stop. Then, as Mari said, taking four or five bus transfers across town to get to see one provider for one of the kids. Imagine that process and cost of doing that with five kids - needing six bus passes every time. Now she can walk down the street and have those healthcare needs addressed. Having the health center really made a huge difference for her and her family being able to access affordable healthcare.
Can you tell us about the health center staff? What's their relationship to the housing authority, and by extension the residents themselves?
Trey: It's a really interesting model, in that the health center is 100% staffed by the housing authority. Which, actually, has worked out to be very much in our benefit. When one of our families comes in, they don't have to bring additional paperwork or anything with them to be able to prove their income, because our staff is there. One of the things we wanted to be really careful about is making sure people feel comfortable and have trust when they come into the health center, knowing that their medical information was going to be held confidential and not shared with anybody who didn't need to know. For example, if somebody comes into the health center and they talk about somebody else who is living in their home who maybe is not on the lease and that we are not aware of, although that is something they can technically be in trouble for, staff is not to share that information back with us, because that would very quickly defeat and undermine the reason that the health center is there. We want people to have access to high quality healthcare and not be afraid that what they share is going to cause them problems with their housing.
Mari: On the Washburn side, the health center serves as a clinical site for both the DNP and BSN students. The site is staffed by a full time nurse practitioner, a medical assistant, and a health services administrator, and provides services which include, urgent care for minor illness, care of chronic conditions, immunizations, school/sports physicals, and age appropriate health screenings, and more. The clinic serves as a clinical site for Washburn University nursing students and Washburn nursing faculty serves as volunteers for primary care services. Each semester, an average of 15 DNP and eight BSN students complete a clinical rotation in the clinic; many of the DNP students also complete doctoral projects directly linked to the clinic. It's a great experience for them, to understand treatment and healthcare for the underserved population.
It sounds like the health center is the culmination of a great community partnership.
Trey: The core partners are THA, Topeka Public Schools, United Way of Greater Topeka, and Washburn University. I would also be remiss if I didn't say our residents. Because if it wasn't for them, there would be no reason to have a partnership, there would be no reason to have the service that we have available.
Mari: One key person that we would be very remiss if we did not thank is Dr. Jennifer Harader. She is our consulting physician and Kansas is not a full scope of licensure practice state for DNPs, so it requires physician oversight. She generously donates her services in that role to us and has for the past two years. And, she is an Advisory Board member as well and provides a tremendous amount of insight. These partnerships make the health center a success and are key resources in the daily operation.
Thank you so much for talking with us!
LATEST BLOG POSTS
STAY CONNECTED TO NURSE-LED CARE