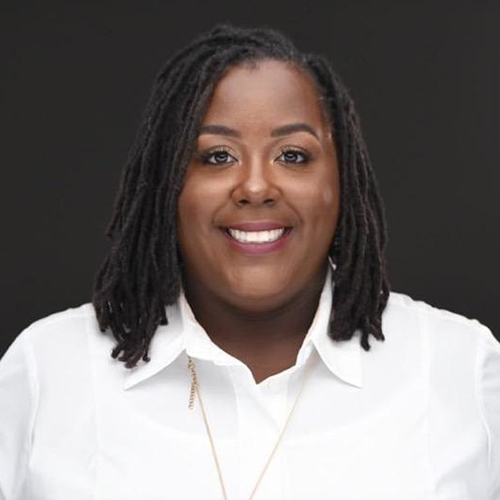 NNCC is proud to announce that Shukriyyah Mitchell Hinton, our Senior Director of Outreach and Advocacy, has been named a 2022 Visionary Leader by the Valentine Foundation. The Visionary Leadership Fund, managed by the Valentine Foundation, is "committed to advancing, encouraging, and developing visionary leadership skills in both emerging and executive-level women nonprofit leaders." Mitchell Hinton will use this grant award to enroll in Cornell University's Women in Leadership certificate.
Shukriyyah Mitchell Hinton is a public health nurse who has served clients, coworkers, and local communities with NNCC for over a decade. Last year, she joined the NNCC senior leadership team as Senior Director of Outreach and Advocacy, where she supports advocacy work that addresses structural issues facing nurses, NNCC clients, and their families. Of this award, she says:
"I am incredibly honored and grateful to be recognized as a Valentine Visionary Leader. It is my goal to be the leader that inspires others to perform at their best; a servant leader who engages the entire team to improve the services we provide. I am confident that the Cornell Women in Leadership certificate will give me more tools to improve the health and wellness of the communities I serve, exceed the goals of my organization, and strengthen myself as a leader."
Shukriyyah Mitchell Hinton, NNCCC Senior Director of Outreach and Advocacy
This funding will allow Mitchell Hinton to bring new leadership strategies and initiatives back to NNCC while supporting her personal goals. NNCC Executive Director and Visionary Leader nominator Sarah Hexem Hubbard shares, "Shukriyyah is one of those natural leaders who inspires others and fosters an environment where everyone—clients, community members, colleagues—feels heard. This award is a further investment in her capacity to affect meaningful change on behalf of NNCC and the communities we serve."
You can read more about the Visionary Leadership Fund and this year's list of Visionary Leaders here. To learn more about Shukriyyah Mitchell Hinton's role at NNCC, check out our Policy Blog.
LATEST BLOG POSTS
STAY CONNECTED TO NURSE-LED CARE