In 2015, NNCC and the American Association of Nurse Practitioners (AANP) partnered to create the Nurse Practitioner Support & Alignment Network (NP SAN). The NP SAN was the only nurse-led SAN across the entire TCPI initiative. The NP SAN recruited over 7,700 clinicians into peer-based quality improvement networks on behalf of the TCPI. The NP SAN developed its own 18,000+ member network, drawn in part from NNCC & AANP's network of over 250 nurse-managed health centers, 100,000+ clinicians (APRNs, RNs, BSNs) , and more than 11,000 FQHCs. These participants represented every U.S. state and the majority of the participants were full-time NPs working in an office practice or in-patient hospital setting.
The Transforming Clinical Practice Initiative
The Centers for Medicare and Medicaid Services (CMS) launched the Transforming Clinical Practice Initiative (TCPI) in 2015  to provide technical assistance to more than 140,000 clinicians (both primary and specialty care) over a four-year period in sharing, adapting, and further developing their comprehensive quality improvement strategies. TCPI created a nationwide, collaborative, and peer-based learning network designed to prepare practices to successfully participate in alternative payment methodologies (APMs). The primary goals of the TCPI were to:
Support more than 140,000 primary and specialty care clinicians enrolled in Practice Transformation Networks (PTNs) and (Support and Alignment Networks) SANs to achieve practice transformation, and provide education on the implications of the Quality Payment Program (QPP) for clinicians.
Build an evidence base on practice transformation so that effective solutions can be scaled. To achieve this, TCPI was designed to develop, capture, and report a standard set of measures, aligned with the overall goals of Medicare Access and CHIP Reauthorization Act of 2015 (MACRA) and the QPP. Best practices and lessons learned were shared to support practice transformation and practice transitions into alternative payment models.
Improve health outcomes, reduce unnecessary hospitalizations, and reduce overutilization of other services for five million Medicare, Medicaid, and Children's Health Insurance Program (CHIP) beneficiaries and other patients.
Sustain efficient care delivery for Medicare, Medicaid, and CHIP beneficiaries by preparing at least 75 percent of practices that complete the TCPI phases of transformation to move into APMs.
The initiative provided support to over 160,000 clinicians in developing their comprehensive quality improvement strategies and entering APM models. TCPI improved health outcomes for 5 million people and generated $5 billion in savings. TCPI participants made significant progress in care coordination; engagement of patients and families in their care; and patient, clinician, and staff satisfaction. TCPI enrolled practices joined APMs at twice the national rate. The TCPI Change Package, with over 400 vetted resources, supported improvements in clinical outcomes, reductions in emergency room and medical resources utilization, and lowered costs for millions of patients.
The Nurse Practitioner Support & Alignment Network (NP SAN)
Through the TCPI, CMS funded Support and Alignment Networks (SANs) to provide a system for development of innovative quality improvement programs and workforce skills building through their existing and emerging tools, through utilization of professional associations and public-private partnerships. SANs supported the recruitment of clinician practices serving small, rural, and medically underserved communities to play an active role in the alignment of new learning.
8.73% reduction in uncontrolled diabetes (31,000+ lives improved)
2.49% increase in controlled hypertension (14,000+ lives improved)
2.94% reduction in emergency room visits (28,000 visits prevented)
$162 million in cost savings to the healthcare industry due to improved health outcomes and unnecessary utilization avoided (based on estimates and claims data)
Role of Nursing in Primary Care and Practice Transformation
Nurse Practitioners have been identified as a critical profession in the healthcare sector to meet the ever-increasing needs of the US healthcare system. In primary care, NPs are currently increasing workforce presence and also amplifying their role and scope as providers.
There are over 250,000 NPs in the United States with additional 25,000 new NPs moving into practice each year. 75% of these clinicians are primary care providers, delivering 1 million patient visits per year. 80% or more NPs are serving Medicare or Medicaid patients. Their roles include chronic disease management, working as part of a care team, and care coordination efforts. NPs and nursing professionals are critical to the delivery of transformed care, and the nursing sector can be a driver of high-performing practice transformation. NNCC is preparing nurses for that role.
Nursing has a critical role to play in practice transformation as they are often tasked to execute critical tasks associated with APM success. Nurse-led principles of care can be used to deliver improved outcomes for patients, staff, and the larger healthcare community. This includes: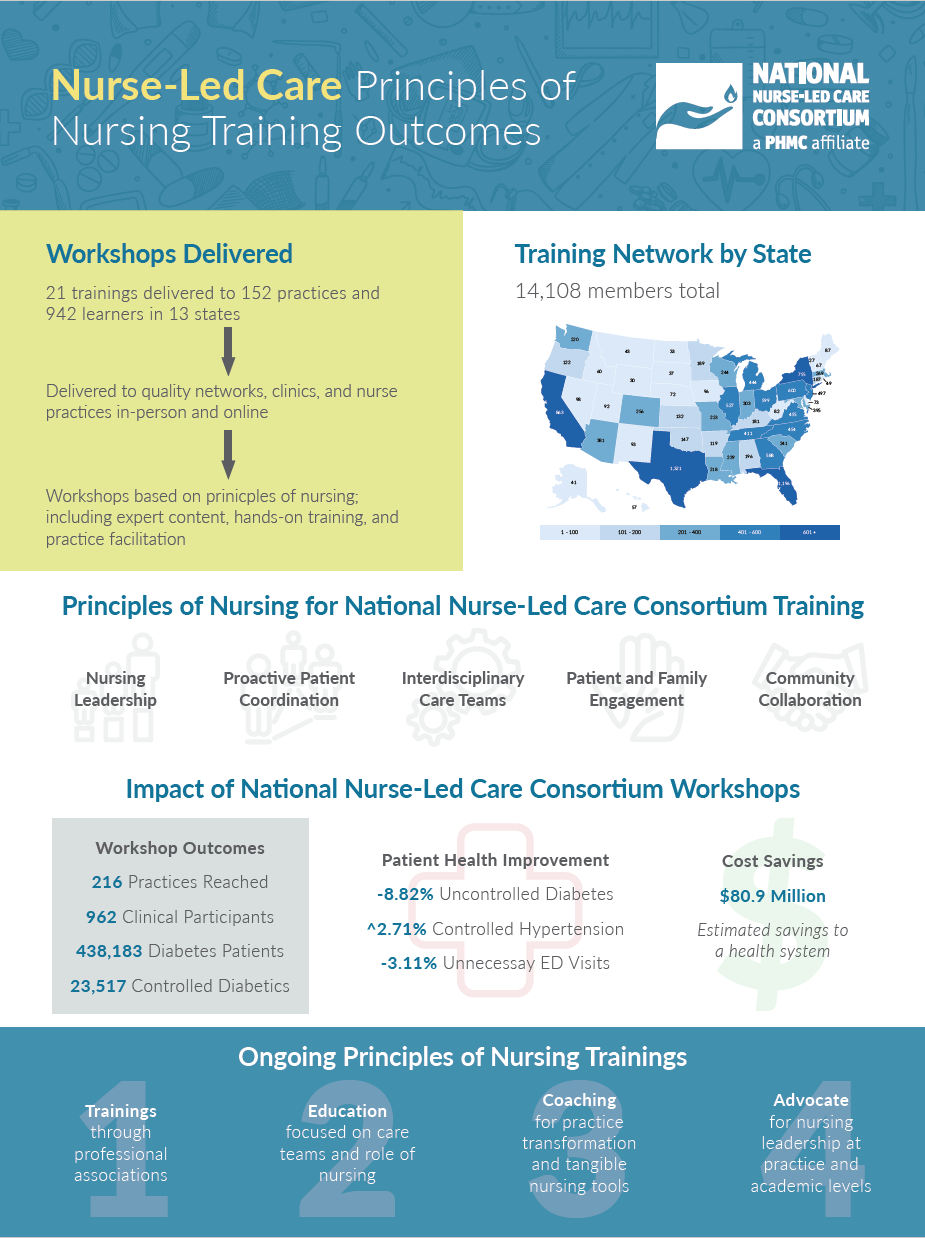 Click to enlarge
1. Commitment to nurse-leadership
2. Proactive coordination of patient care
3. Working as a collaborative member of the larger healthcare community
4. Adoption of interdisciplinary care teams and/or adoption of care team work flows
5. Integration of non-primary care services into practice
6. Engagement of patients and families
7. Creating a fulfilling, joyful practice experience for all staff
Supporting Practice Transformation from Nurse-Led Principles of Care
Through the NP SAN, NNCC supported NPs and other clinicians in their preparation for transition to value-based care.  The NP SAN disseminated trainings on the principles of nurse-led care, including interdisciplinary care team optimization and patient-centered care coordination.
Nurse-led Principles of Care Workshops
The NP SAN developed a series of workshops focused on critical principles of nurse-led care associated with practice transformation key to APM success, including the optimization of interdisciplinary care teams, and the use of care teams for care coordination. NNCC conducted 18 in-person training workshops for 962 participants from 216 practices across 13 states. More information about the workshop series can be found here. NNCC continues to deliver these workshops both in-person and via online platforms as part of several ongoing grant programs. Interested parties can inquire about these workshops by contacting Casey Alrich at .
SAFE Opioid Prescribing Series
To support NPs' role in providing safe pain management in primary care in consideration of the increasing number of individuals with opioid use disorder, the NP SAN developed a safe prescribing training. The SAFE Opioid Prescribing Series: How to Safely and Effectively Treat Pain in Primary Care, is a six-part podcast module series with materials and references for download. Over 6,000 individuals completed the training, receiving over 10,000 CE hours. According to post-training surveys, at least 1,400 patients have been affected by the training; 71% of learners use information from the training for direct patient care; 44% are checking state PDMP regularly or more often as result of training; 51% improved opioid medication management; and 60% of learners are using individual care plans for opioid users. This training series is available for free to the public via AANP's CE Center through March 20, 2020 here.
Webinar Lunch & Learn Series
Another series of trainings was the Lunch & Learn series that was developed to reach NPs at various levels of practice to provide support and increase knowledge base of practice transformation and the transition to value-based payment models. The webinar series was well attended with 10,870 unduplicated attendees over the duration of the series. In an evaluation of the series, participants rated the training content and identified how it prepared them to succeed under APMs.
Program Data

| | |
| --- | --- |
| Participation in Webinars Contributed to Improvements in My: |   |
| Understanding of Alternative Payment Methodologies (APMs) | 80.5% |
| Capacity to move toward APMs | 73.1% |
| Ability to communicate with others the importance of using APMs | 74.1% |
| Confidence to succeed in using APMs | 77.9% |
| Knowledge of eligibility regarding APMs | 72.5% |
| Ability to forge partnerships with others using/attempting to use APMs | 66.1% |
| Intention to move towards APMs | 68.8% |
| Awareness of practice changes needed to succeed in using value-based payment models | 76.3% |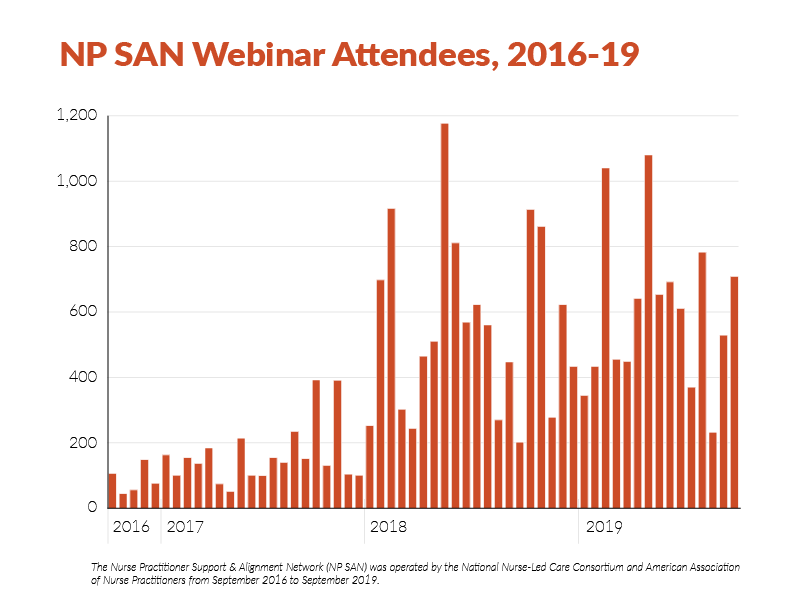 Click to enlarge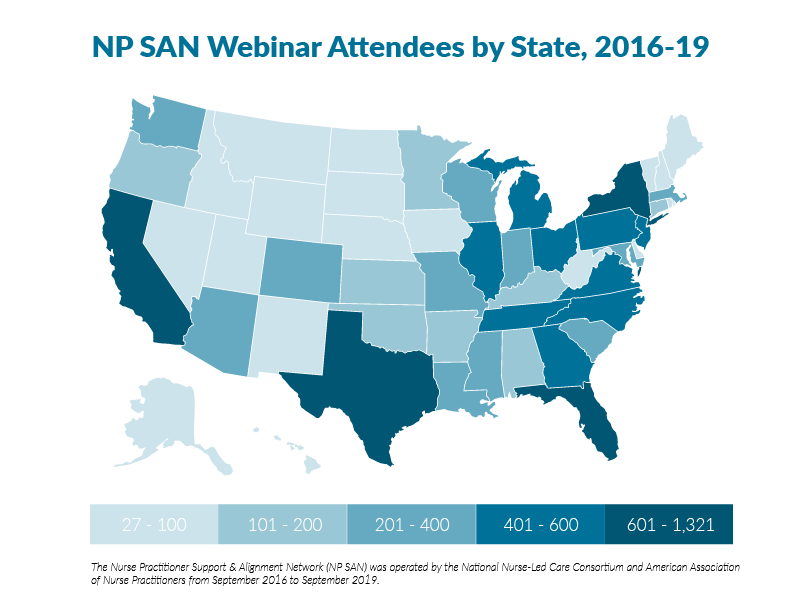 Click to enlarge
Next Steps
With the TCPI grant concluded, NNCC will continue advocating for the voice of the NP and the role of nursing as a driver of practice transformation. NNCC continues to offer its nursing principles workshops, and is creating new workshop content focused on patient engagement, SDOH data capture, and much more. The NP SAN listserv is still active, providing valuable Lunch n' Learn webinars with CE for participants. You can join the NP SAN listserv here. NNCC looks forward to providing ongoing practice transformation services to clinicians and practices, supporting successful transition into APMs, and identifying the critical role of nursing to drive the healthcare workforce of the future.
UPCOMING WEBINARS
LATEST NEWS
STAY CONNECTED TO NURSE-LED CARE